4.9 out of 5 Average Google Customer Reviews
Same day despatch on weekday orders placed before 2pm
Pay in 3 interest-free payments with PayPal
Country clothing: Autumn/Winter 2023
Combining country chic with durable materials, our Autumn/Winter 2023 collection at John Norris features statement pieces and must-haves from bestselling brands such as Hoggs of Fife, Barbour, Le Chameau and Schoffel.
The A/W season is not one for light clothing, with heavy rainfall forecasted in the UK (to no one's surprise) and the possibility of high winds making for difficult terrain and walking conditions. If you're thinking about upgrading your wardrobe for the cold days ahead, here are our top picks from some of our best brands.
Investing in quality clothing that is comfortable yet durable means your wardrobe upgrade will last you – so, browse our new range of clothing and brands today…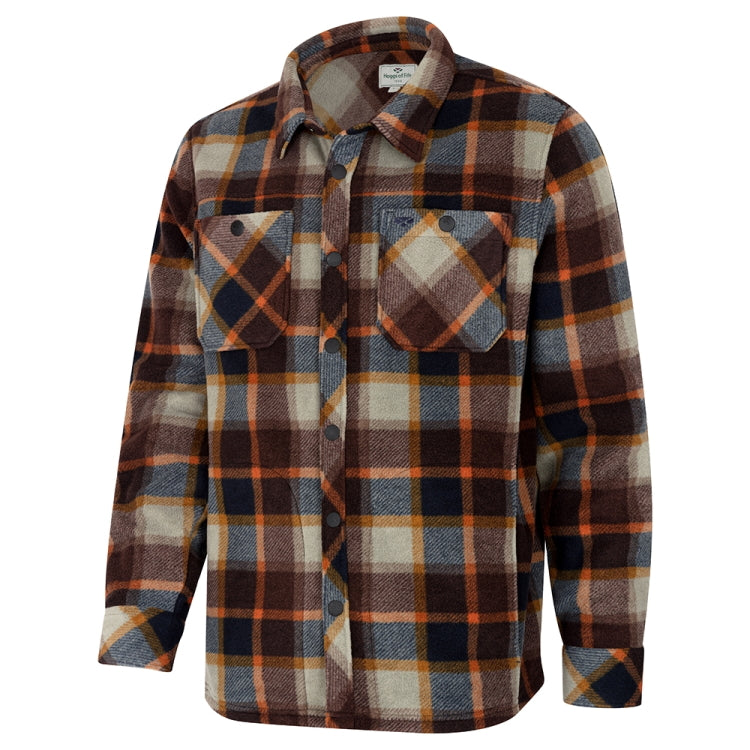 It's the striking colour combination that hits you first, with the stunning Hoggs of Fife Brucefield Fleece Shacket. Then the additional features such as double brushed fleece, the pocket and yoke being cut 'on the bias', the perfectly placed side pockets and then the matt navy coloured snap branded buttons all help you appreciate what a great looking and practical garment this is.
This shacket is a perfect autumn staple for your wardrobe.
Characterised by its chunky ribbing and laidback styling, the Hoggs of Fife Borders pullover is composed of natural wool, rendering it warm and comfortable. Whether paired with a shirt or incorporated as a statement piece, this timeless pullover will elevate any ensemble.
The Hoggs of Fife Tummel Tweed Waistcoat is an elegant and functional piece, perfect for layering on a shoot or for use while training your dog. It features bellows pockets, coordinating faux suede trims, and an attractive windowpane weave – ideal for those looking to impress while shooting.
Featuring a re-imagined Hoggs of Fife Classic, this reversible body warmer provides a reliable outerwear option. The Breezer has been part of the Hoggs of Fife collection for more than a decade, and this upgraded version offers enhanced performance, featuring windproof microfibre and an anti-pill microfleece on the reversed side.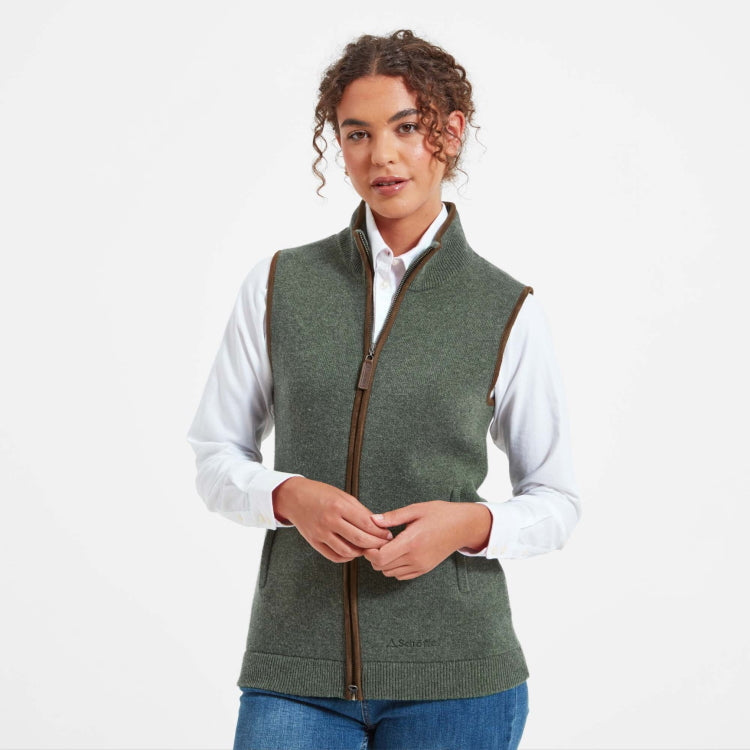 Perfect for layering or to be worn alone on warmer days, the Schoffel Ladies Orkney Merino Gilet is the perfect attire for countryside pursuits and outdoor activities. Lightweight, flexible and versatile, this piece is constructed from 100% boiled Merino wool for bulk-free thermal insulation and all-day comfort. What we like to call an 'autumn/winter must have' for our country clothing-loving ladies.
The Schoffel St Merryn Sweatshirt is an essential cosy and stylish layer, perfect for outdoor excursions, countryside ventures, and everything in between. Delicately composed from a high-quality blend of cotton and polyester, this sweatshirt provides exceptional comfort and bulk-free warmth.
It's design features a quarter zip, embroidery and Schoffel-branded neck tape, adding a touch of luxury to a classic style.
The Schoffel Lattice Stockings adds a subtle textured knit detail with a pop of colour to your shooting attire. Crafted from a fine Merino wool blend with added Lycra, these socks are insulative yet breathable with just the right amount of stretch to give the perfect fit.
A casual sweatshirt that is versatile for a variety of occasions, whether it's countryside walks or an additional layer to keep you cosy around the house. Crafted from a supersoft cotton blend, the Schoffel Bude sweatshirt stands out with the contrast Schoffel countrywear heritage embroidery across the chest.
This sweatshirt is great in casual settings or during outdoor activities.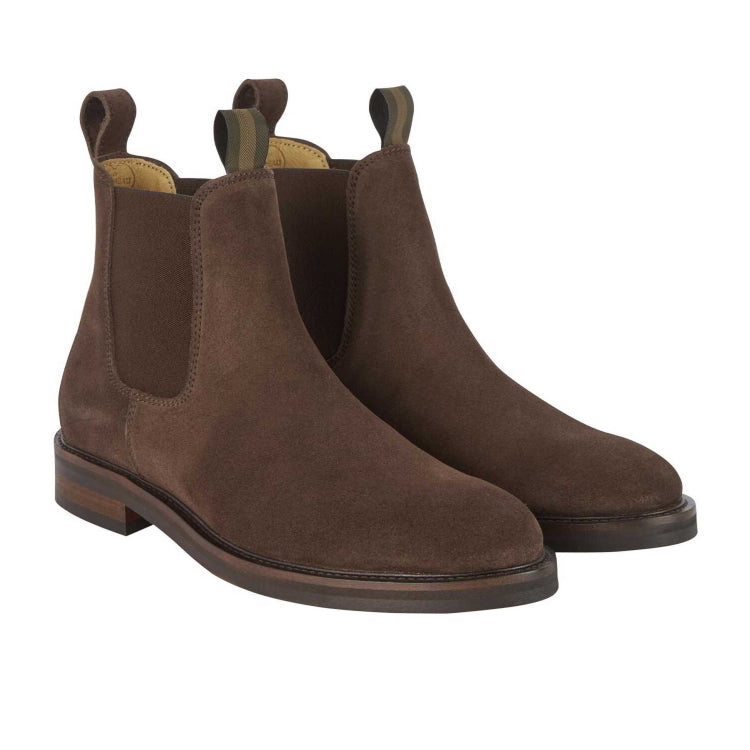 When it comes to fantastic lightweight comfort, the Le Chameau La Chelsea Suede Boots offer excellent durability with a traditional, reliable sole grip. This lightweight boot offers complete comfort, with a reshaped opening with unlined elastic for more mobility and flex, as well as technical onSteam® insoles, which are highly breathable and comfortable.
In a classic suede, featuring a lace-up brogue design and coloured rand on its sole, these Normandy Sueded Brogues are a smart addition to your Le Chameau collection. Th brogues are fantastic for a special occasion, but are also durable and high-quality shoes offering excellent grip and balance as well as comfort and wearability.
"The Le Chameau Mouflon 2.0 Extreme 10" Leather Men's Boots exemplify exceptional craftsmanship and unrivalled performance. These boots are meticulously crafted from rugged leather and nubuck, making them a testament to durability.
The La Chelsea Leather Boots provide lightweight comfort, featuring durable leather uppers and a traditional sole for excellent grip. Insoles made of onSteam® offer 100% breathability and absorb moisture, and an unlined elastic opening enables foot flexibility and mobility.
Whether for dressing up or effortlessly transitioning between urban and rural terrains, these boots provide superior support.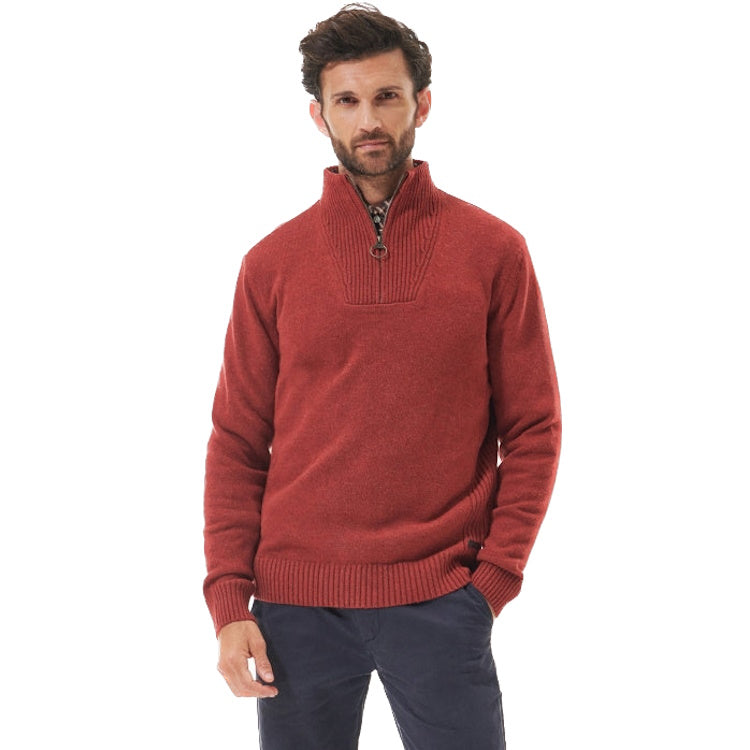 NELSON ESSENTIAL HALF ZIP SWEATER
This easy to wear country and sporting half zip sweater with rib to hem, cuffs and neck is an essential this autumn/winter season. Easily dressed up during a special occasion or layered for a cozy and comforting feel, the Barbour Sweater is made from 100% lambswool with a contract inner back neck – the epitome of luxury countrywear.
For days with chillier temperatures, the Barbour Ladies Perch Knit Jumper can offer cozy warmth thanks to its wool-rich yarns. This long-sleeved layer features cable stitch detailing and chunky rib-knit trims, plus side splits at the hem for an easy-going look.
NELSON ESSENTIAL FULL ZIP SWEATER
Bringing timeless style to the countryside, the Barbour Nelson Essential Full-Zip Jumper is expertly woven from pure wool with twisted yarns for enhanced warmth and softness.
Featuring raglan sleeves and made from 100% lambswool – a high quality and wearable fabric for this autumn.
Woven in their iconic pure lambswool, this versatile Barbour ladies scarf has an incredibly soft drawn finish and a traditional tasselled hem. Perfect for layering with comfortable jumpers and jackets for the ultimate cozy feel.
This autumn/winter season, stock up on quality brands with wardrobe staples made from only the best fabrics and materials, ensuring you're left feeling as cozy and comfortable as possible – while also looking the part.
Wanting to browse more of our autumn country clothing collection? You can browse it here or visit us in store to test and try them yourself.